29.1% of over 4yo audience share* for France Télévisions in 2021, the group remains the undisputed number one media outlet in France
Thanks to the synergy and richness of its content, the France Télévisions group has achieved its highest over 4yo audience share since 2015, and a younger audience (strong growth in the under-50yo +0.6 points). => 4 out of 5 French people watch the France Télévisions group's channels every week.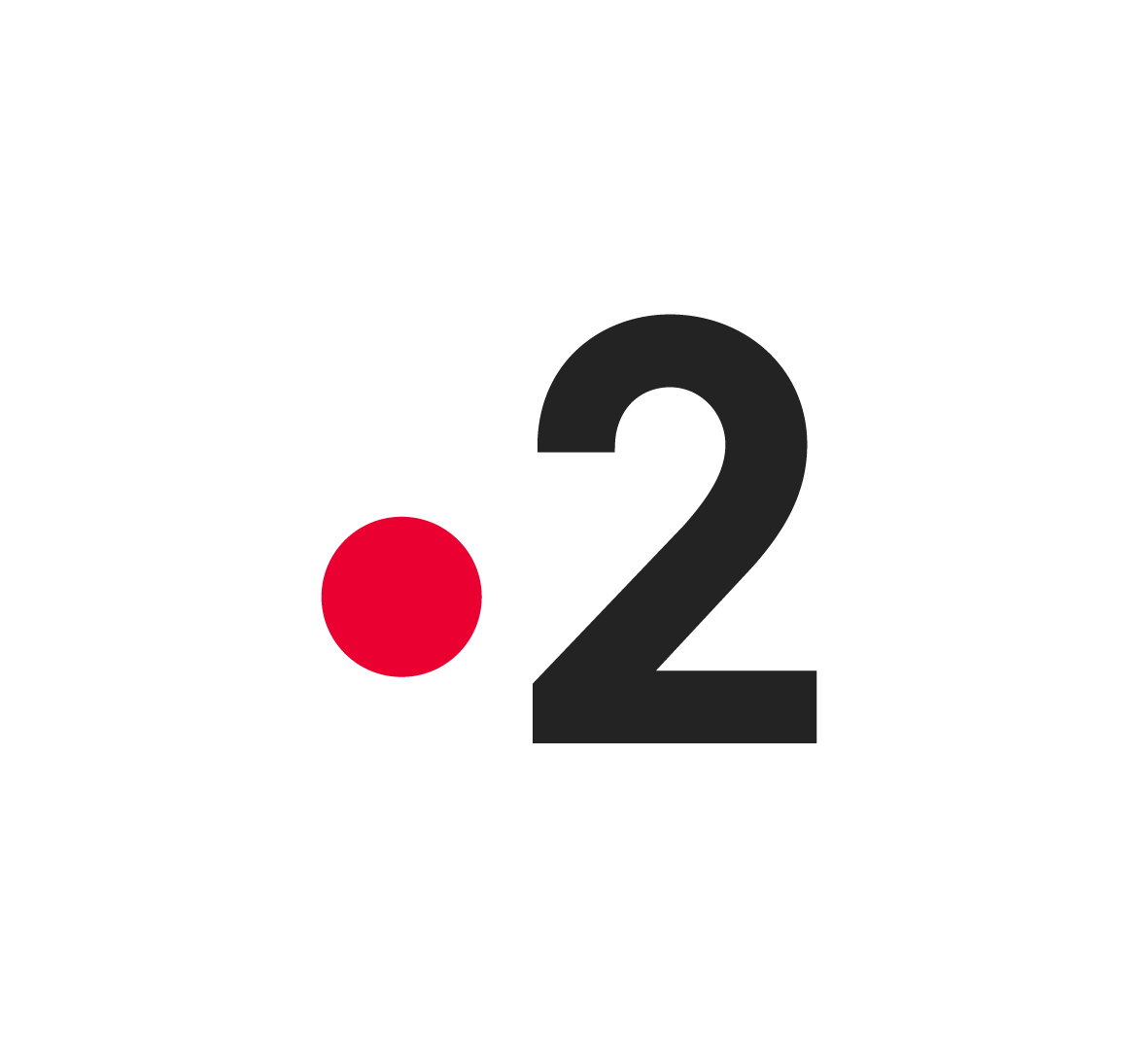 France 2, the leading public service channel, has been successfully reinventing itself on a daily basis and has achieved the strongest growth of any longstanding channel in the French-speaking world (+0.6 points vs. 2020) with 14.7% of over 4yo audience share, the highest since 2012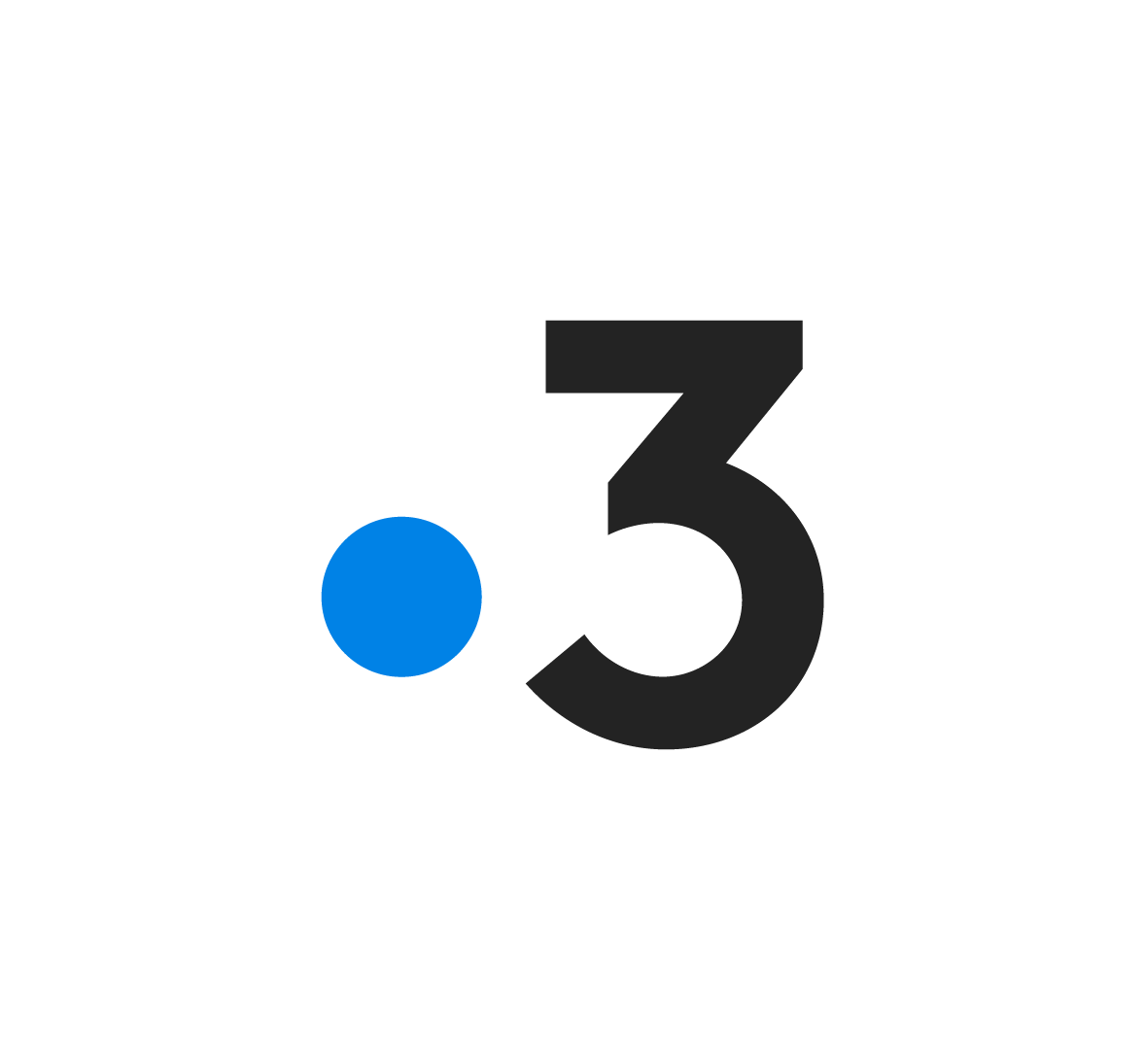 France 3, the channel for all territories and all French people, has maintained the excellent momentum it picked up in 2020 with 9.4% of over 4yo audience share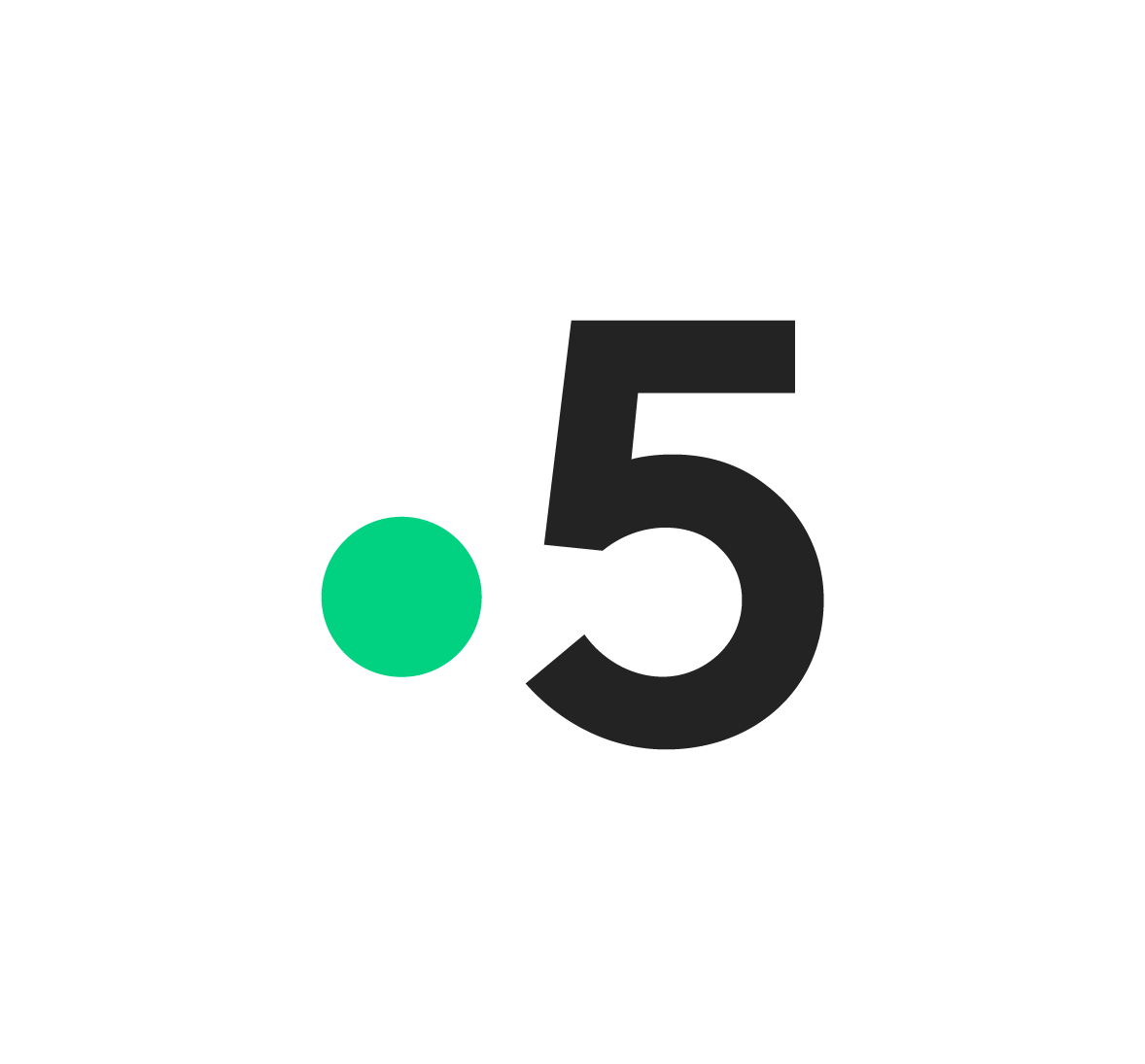 France 5 continues to champion debate, discussion and analysis. The channel has a 3.3% audience share, the leader among DTT channels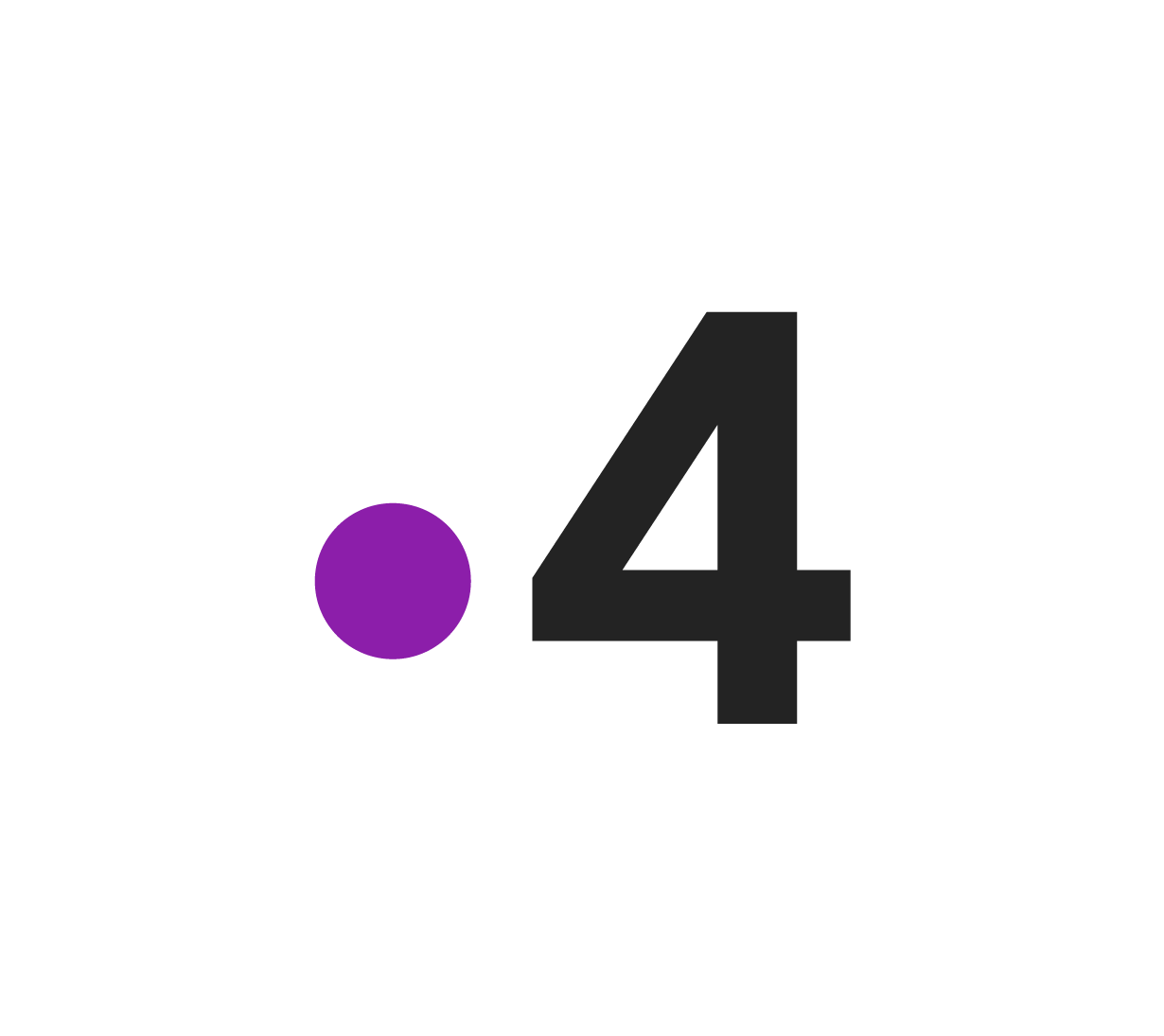 France 4 & Culturebox are standing out even more with unique, revamped kids' content centered on Okoo and Lumni and freshly imagined cultural content catering to all audiences on a daily basis

Franceinfo channel 27 continues to grow without sacrificing the exemplary quality of public service reporting, with a 5% increase in viewers in one year.
Every day, nearly 19M viewers** keep themselves well informed via the group's magazines, newscasts and news channel.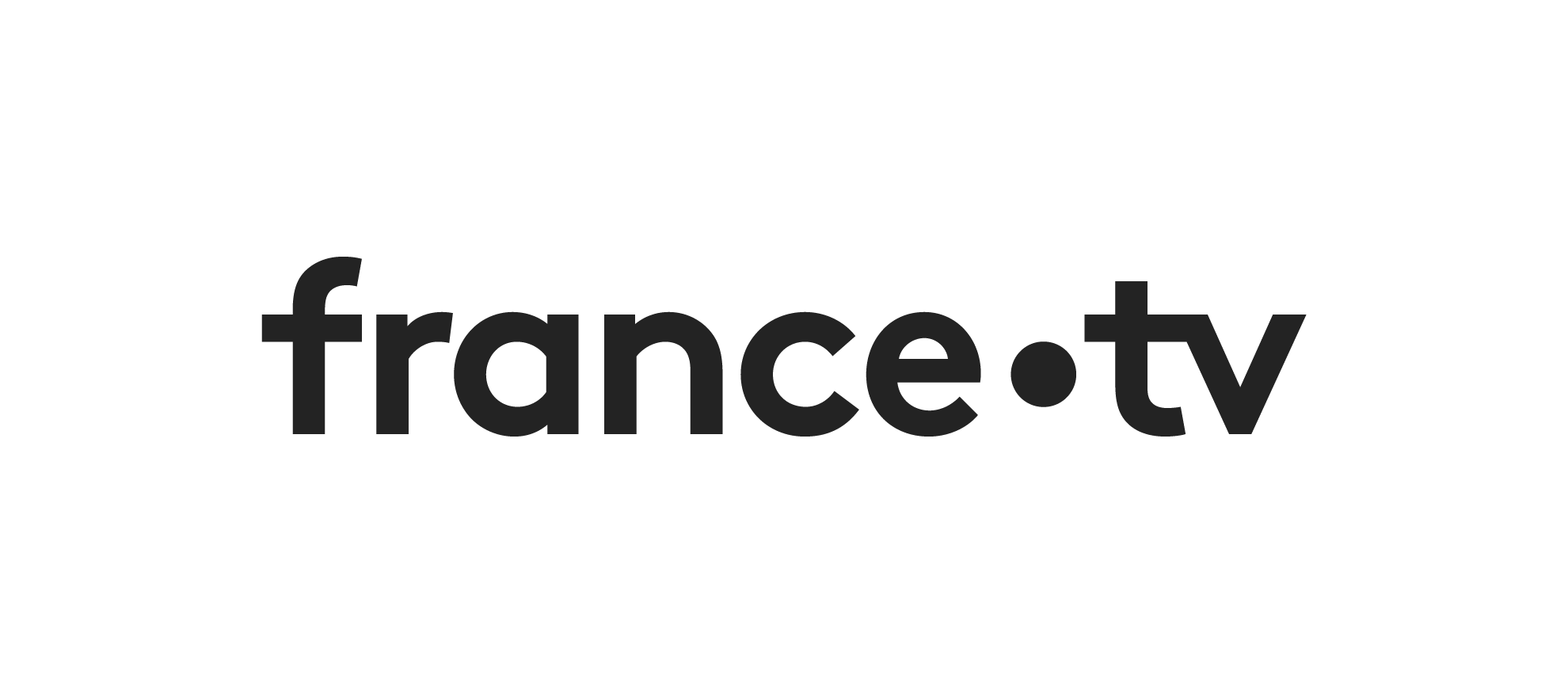 Every day, nearly 19M viewers** keep themselves well informed via the group's magazines, newscasts and news chan
I – Bringing people together and creating connections
1/ Creating original content to entertain and escape into
TV Drama on France Télévisions is the most powerful content on French television with 15 of the 20 most watched French TV shows in 2021!
With an ever-growing variety of original content, its unparalleled line-up of dramas has been watched by an average of 19M viewers each week on France 2 and France 3.
French dramas such as Capitaine Marleau and Astrid et Raphaëlle on France 2 or Meurtres à, Alex Hugo, and Le Voyageur on France 3 attracted up to 7.2M evening viewers.
Engaging dramas that spark social debates, such as L'enfant que je n'attendais pas, Intraitable, L'enfant de personne and La fugue, drew 4.5M viewers on France 2 in January
International dramas such as Germinal, Le Tour du monde en 80 jours or Sophie Cross, attracted an average of more than 4M viewers per episode on France 2 or France 3
A pioneer in daily soap operas, France Télévisions remains the prime-time audience leader with 5.6M viewers each evening*** for Un si grand soleil and Plus belle la vie
News magazine broadcasts and documentaries that transport viewers
The magazine Echappées Belles is a Saturday evening favorite with ratings of up to 1.6M viewers on France 5
Rendez-vous en terre inconnue always creates a buzz, the episode featuring Vianney in the Afar region of Ethiopia attracted 6.4M viewers on France 2
Grounded documentaries such as Nous paysans, amassed 5.5M viewers, the biggest audience for a documentary since 2018 – and ever more innovative content such as France, le fabuleux voyage (3.3M viewers on France 2) and Lady Sapiens, available as a VR (virtual reality) experience (1.5M viewers on France 5) have attracted even more viewers
The day's rhythm is set by constantly-refreshed programming
Télématin, France's number one morning show, is the leader from Monday to Sunday across all audiences. With an increase of nearly 2 points in audience share since September (26%), Télématin's revamping has been a success.
France Télévisions' game shows put a smile on the faces of 8 million viewers every day (Monday – Friday)

This year has been marked by the masters of N'oubliez pas les paroles that kept 2.7M viewers coming back for more and a finale that played out in front of 3.3M fans on France 2
Chacun son tour launched successfully with 760K daily viewers on France 2 – outscoring the slot's 2020 performance

Audience loyalty to France 2 afternoons 

At 2pm, the 2 back-to-back episodes of Ca commence aujourd'hui gather an average of 1.2M viewers
Affaire conclue attracts an average of 1.7M viewers starting at 5 p.m., putting France 2 on top
2/ Bringing people together around major events
Sports, creating universal connections
The biggest event of them all was on France Télévisions! Over 50 million viewers** followed the Tokyo 2020 Olympic Games passionately, watching the 650 hours of content on the group's channels: the result was a bigger and younger audience (88% of 15- to 24-year-olds followed the Games) and a record viewing time with an average of nearly 8 hours per viewer. 
France Télévisions also broadcast all of the Tokyo 2020 Paralympic Games on France.tv and on its linear channels, attracting more than 24 million French viewers. 

More and more viewers are streaming content on France.tv's online platform: 65% increase in the number of views for the Olympic Games and 125% for the Paralympic Games

For France v Scotland in the Six Nations Championship, France 2 recorded its best prime-time audience of the year with more than 7.6M viewers on March 26
Entertainment that dazzles all audiences 
This year, not only did France place higher than it has in 30 years thanks to Barbara Pravi's performance but, with 5.5M viewers on France 2, Eurovision also drew in its biggest audience since 2009
La grande soirée du 31 à Chantilly placed France 2 in the lead throughout the evening on New Year's Eve with an average of nearly 4M viewers. That number went up at midnight with up to 6.3M viewers ringing in the new year in front of this wonderful show (peak at midnight).
Nights with big events were a hit with viewers, who numbered up to 3.3M for the Johnny Hallyday, que je t'aime tribute concert, more than 3.1M for the Prodiges finale and 3M for the Victoires de la Musique awards.
The family-friendly Fort Boyard was a summer highlight, gathering 45% of children and more than 1/4 of parents in front of France 2 every week 
3/ Speaking about everyone and to everyone, on all screens
France.tv, a genuine platform for diversity and discovery 
dramas that have pulled in a young and receptive audience: +24% of 15- to 24-year-olds reached in one year  

Or de lui had the best premier for a drama on France.tv with 1M views in its first month online
Seasons 1 & 2 of Stalk cumulated 7.4M views on France.tv including 1.5M for the 2nd season in 2 months. A success closely followed by Mental, Diana Boss and Carrément craignos 
Okoo, animated content on all screens
10% increase in the number of views on the Okoo application universe, reaching 190M views. Okoo has reached 400M views on all screens.
Certain shows performed well regardless of the target audience, such as Les contes de Lupin (2.8M views in 2021), Idéfix (2.1M views since July) or ASKIP (6.4M views in 2021, including 1M for season 3's September launch)
4/ In touch with all our territories and our fellow citizens 
In touch with French citizens, France Télévisions strengthened viewer support for regional events and gave unprecedented visibility to news and programs from overseas
With the development of regional programs in the morning and its solid news content, France 3 is close to home no matter where viewers are

80% of French peopleµ have declared their confidence in the news provided by the regional editions of France 3
Each week, nearly 17M viewers watch France 3's regional content (morning shows, newscasts, magazines)

With the launch of the Portail des Outre-mer and the development of the Overseas Visibility Pact, overseas content has never had greater reach 

1M viewers follow the Les 1èreµµ daily. Evening newscasts reach an average of 35% of the population living in the French overseas territories every day. La 1ère radio stations reach 23% of the overseas population every day, i.e. 500k viewers.
The series OPJ, now broadcast on France 3, attracted an average of 4.2M viewers (20.7% audience share) for each episode of season 2. 
II – Right there with French people in their daily lives
1/ France Télévisions gives democracy a voice
Offering the reference standard of news reporting with essential breaking news stories
3 out of 4 French people trust France Télévisions' news and place France info at the top of the podium of news channels on this metricµ
France 2 and France 3 newscasts, the number one source of news in France with nearly 15M daily viewers
The 20h30 magazines attract an average of more than 5.2M viewers every weekend
France's leading news service, France info, the global media outlet (TV, radio, online), is followed by 11.3M users every day
Essential political interviews and debates have reached more than 30M French people since September
Les 4 V, the number one political interview program in France, holds the lead each day by far with 900K viewers
Elysée 2022 achieved its biggest audience since November 2018 for a political debate reaching 2.8M viewers on France 2
Investigative magazines that made breaking news 
Revelations on the Pandora Papers, on the accusations against Nicolas Hulot or on ecological or social scandals, our news magazines have played their role and achieved record audiences this year 

Cash Investigation – up to 2.4M viewers for "DSK, enquête sur un homme d'influence"
Envoyé Spécial – up to 3.9M viewers for "Nicolas Hulot : des femmes accusent" – a record since February 2017
Complément d'enquête – up to 1.5M viewers for "Abus sexuels, la fin de l'impunité"
2/ Enlightening and imparting the keys of knowledge
Our magazines and documentaries crack the code
C à dire, C dans l'air, C ce soir or C l'hebdo magazines break down the news

Every day, the debates on C dans l'air attract an average of 1.2M viewers on France 5
The new format of the second part of C à vous has boosted France 5 ratings, reaching historic levels in the 8:00 p.m. to 8:55 p.m. slot

France Télévisions' documentaries, followed by 10.4M weekly viewers, take a close look at history
Unique complementary content formats that decode society 

On France 5, with the Sunday evening in-depth reports such as Sur le front, La fabrique du mensonge or Le monde en face
On France info, with the segments Vrai ou Fake or Les révélateurs de l'info
Services with content adapted to different audiences
NOWU, a new European media outlet for young people, shares ways to act on the climate emergency via a unique experience on a low-energy site, without ads or personal data collection, and it cites all its sources!  
Building on its success with schoolchildren, Lumni launched Lumni Etudiant in September 2021. Its objective is to help young people acquire knowledge and new work methods, but also to help them discover student life and build their career path
Getting involved in the conversation with an increased social media presence
3/ France Télévisions, the number one gateway to culture and a key player in cinematographic creation
An unprecedented range of cultural content 
Culturebox, the first channel showcasing live performers, accessible 24 hours a day! 210 new programs on channel 14 and 1,500 guests since launch
Cultural magazines such as On est en direct or La Grande Librairie attract up to 1.2 million viewers each week
Cinema, in all its forms
As a major partner of cinema and the leading investor in free-to-air channels, France Télévisions showcases powerful films that resonate with today's society. Co-produced by its subsidiaries, they contributed to the debates during the evenings on the air throughout the year, such as Les Chatouilles (3.7M viewers) or Jusqu'à la garde (3.4M viewers)
Nearly 6 million views on the France.tv platform, which has offered nearly 200 cinematographic films and 15 thematically-edited collections for free.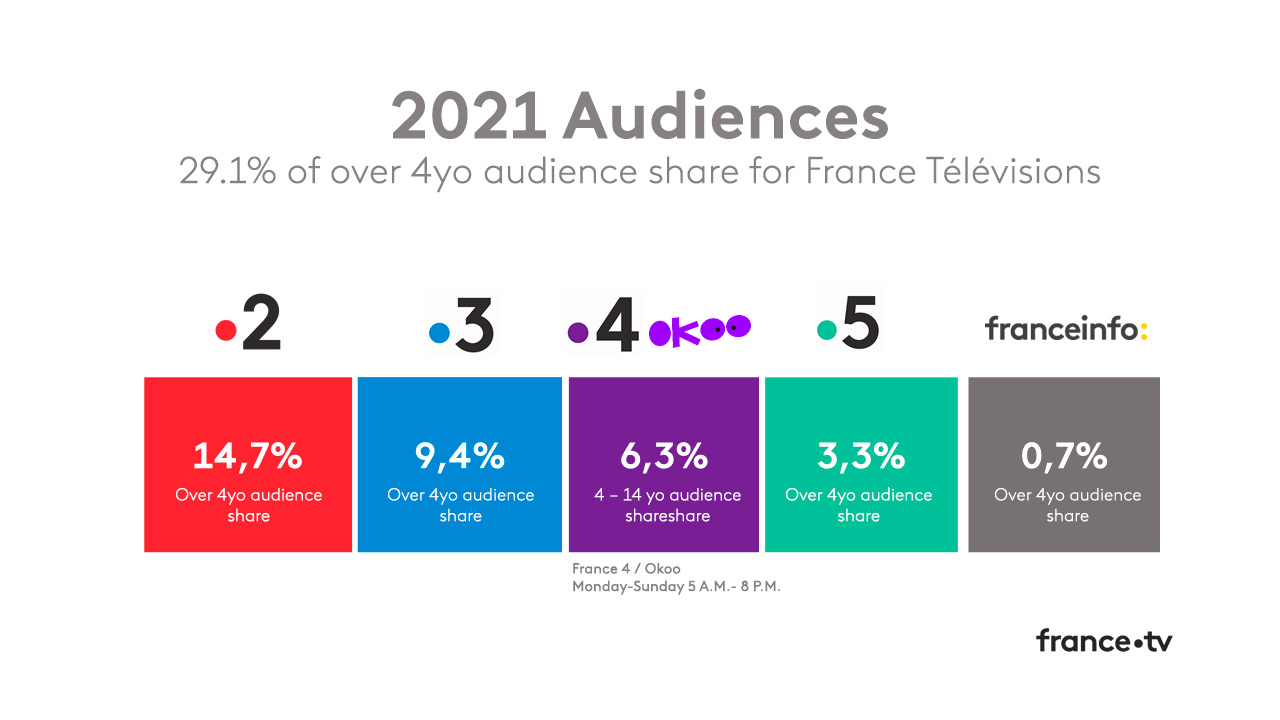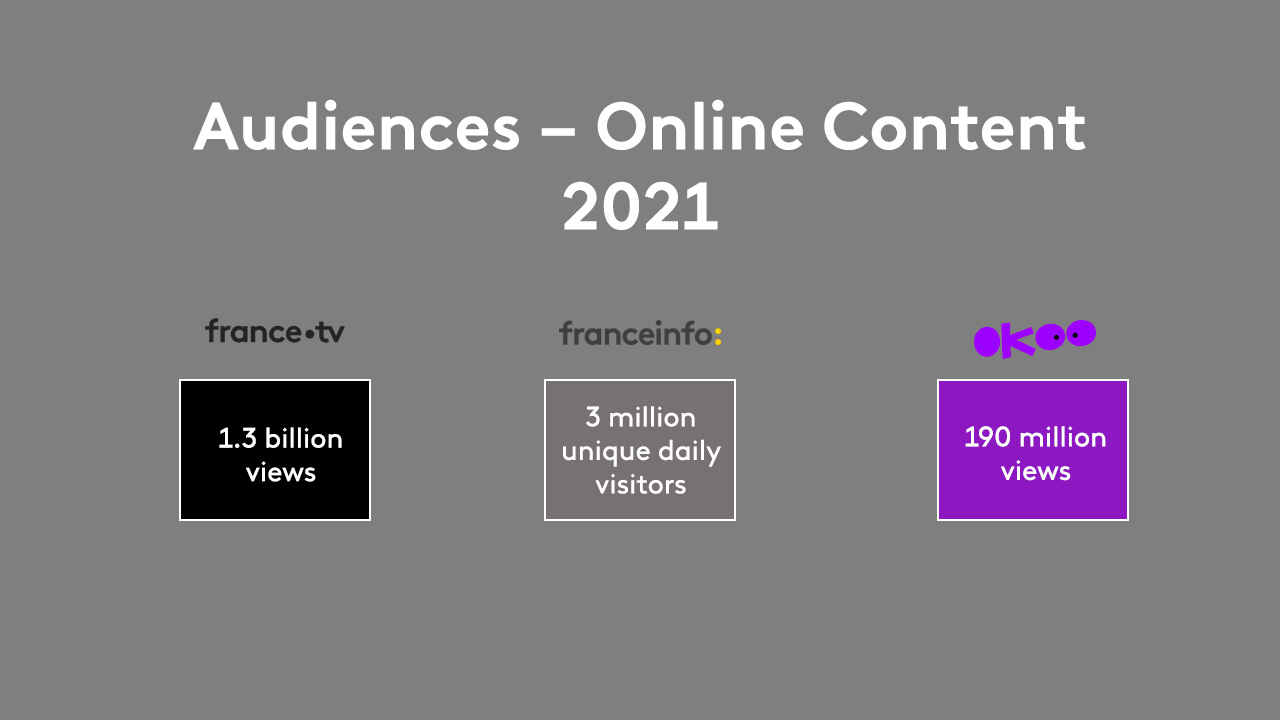 Audiences : Médiamat, Médiamétrie 
Vidéos vues : Médiamétrie TV extended / Médiamétrie eStat Streaming
* Sources : Médiamétrie eStat Streaming / Bouygues Telecom / sur les apps mobiles et TV Okoo et france.tv, le site web et site mobile france.tv, les boxes Free, Bouygues et Orange (estimations) et les agrégateurs Molotov et MyCanal
** Sources : Médiamétrie – Médiamat – Base : 4+ Équipés TV – Seuil de vision : 60 s consécutives
*** Sources : seuil de vision : 51% non-consécutifs
µ Sources : baromètre IFOP d'images de l'info et des chaînes en France (mars 21) 
µµ Sources :Médiamétrie Métridom (Population des 13ans et +)