FranceTV Publicité launches AKOUO, a new, artificial intelligence-based marketing service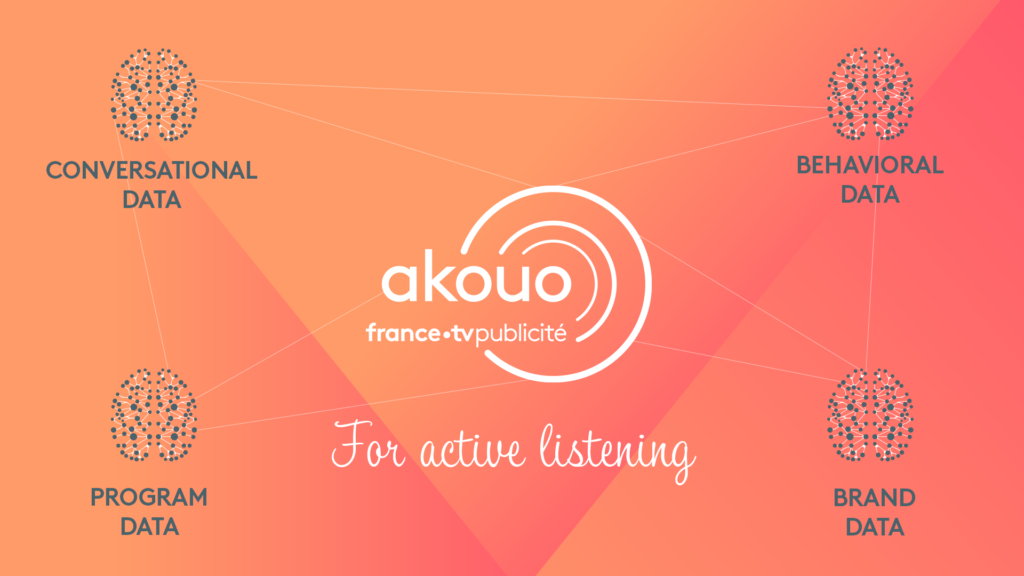 FranceTV Publicité is fully committed to supporting its partners as they get back to business, and has created a new marketing service, AKOUO, to further enhance customer relations via active and meaningful listening.
AKOUO ("listen" in Greek) aims to help major advertisers connect with their targets as effectively as possible. 
We make this happen by sharing our extensive knowledge of the French public with our brands.
AKOUO is underpinned by an exclusive and proprietary AI platform and is a powerful resource for listening to audiences. It combines different types of audience knowledge data with FranceTV Publicité's broad and diversified advertising services. 
Using artificial intelligence, AKOUO links 4 complementary data sources via semantic fields. By facilitating connections between the different data sources, the platform establishes correlations in just a few seconds.
These data sources are referenced and anonymized:
conversational data, derived from public internet data,
brand data, collected by YouGov,
behavioral data, from Kantar,
program data, drawn from Harris Interactive's Quali TV survey.
This bespoke service offers an ever greater understanding of audiences' constantly changing affinities, expectations and interests. FranceTV Publicité is therefore able to provide its advertisers and their advisers with recommendations for intelligent, context-based audience planning at the heart of its TV and digital program offering.
A dedicated team of experts in the Marketing and Research Department at FranceTV Publicité is working on this new service. Their role will be to address each brand's needs and to understand different sectors' challenges based on data analyzed using artificial intelligence.
Profound changes are taking place in our societies and our role as an advertising network is to reflect, magnify and facilitate them. The nature of the unprecedented crisis we face only increases the importance of this role and calls for us to grasp and embrace these changes so that we can offer our clients tailor-made services and help them get back to business. AKOUO, which relies on artificial intelligence, is our groundbreaking new approach to marketing and and is a great example of AI benefitting communication.