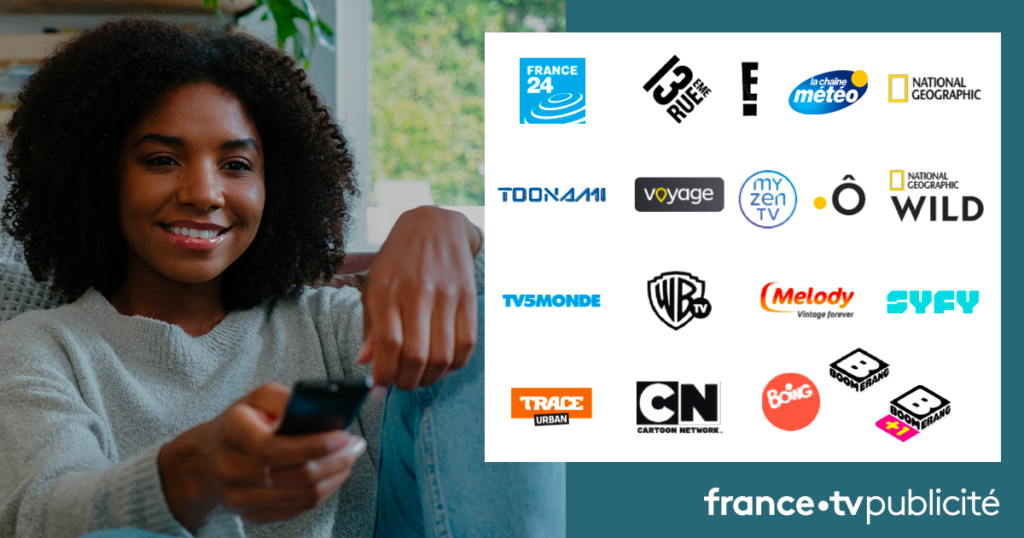 With over 28 million viewers watching its thematic channels every month, FranceTV Publicité is the leading thematic advertising network according to the wave 39 Médiamat'Thématik audience ratings published on Tuesday July 7.
We are also the leading provider of monthly thematic coverage for the following targets: women under the age of 50 in charge of household purchasing decisions (63.2%), 25-49-year-olds (62.7%), 15-34-year-olds (42.9%) and high-income group (62.2%).
FranceTV Publicité has consolidated its position as the 2nd largest TV advertising network in children's content* in terms of monthly coverage for 4-10 year-olds (62.8%).
We offer a wide range of thematic channels targeting:
Fiction, with nearly 2.4 million viewers aged 25-49 on Syfy, 13ème Rue and Warner TV
Children, with more than 1.5 million viewers aged 4-14 on the Boing, Boomerang, Boomerang +1 and Cartoon Network channels
Discovery, with nearly 1.8 million viewers aged 25-49 on National Geographic, National Geographic Wild and Voyage
Millennials, with over 1.1 million viewers aged 15-34 on Trace Urban, Trace Latina, E! and Toonami.
Contact our sales team for more information
Mediamat'Thématik wave 39, monthly coverage 4+, 4-10 years, 4-14 years, 15-34 years, 25-49 years. Coverage as a % per target calculated on the basis of individuals receiving television by satellite, ADSL, cable or fiber optic cable.
*Children's content: FTP: France 4 and WarnerMedia (Boing, Bommerang, Bommerang +1 and Cartoon Network), M6: Gulli, Disney (Disney Channel, Disney Channel +1, Disney Cinema, Disney XD, Disney Junior), Viacom (Nickelodeon, Nickelodeon Junior, Nickelodeon Teen and Nickelodeon +1), Lagardère (Canal J and Tiji), REMICS (TV Pitchoun) and Canal+ (Teletoon, Teletoon +1 and Piwi), on time slot from 6 am-6:30 pm Monday/Sunday