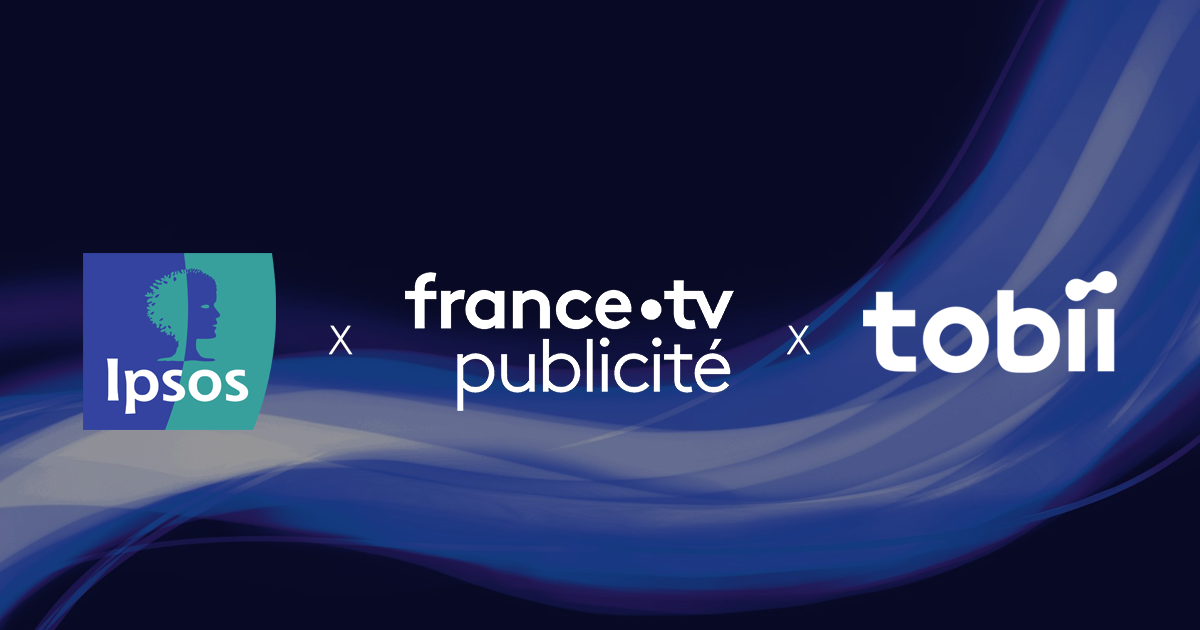 Thursday 29 June, FranceTV Publicité has organised the first edition of "Attention•Day", their new event gathering together experts to discuss audience Attention.
Hosted by Mélanie Taravant, this conference brought together specialists in French and international studies, sociologists, media experts and advertisers.
FranceTV Publicité, Ipsos and Tobii took this occasion to present the initial trends from "Cultivons l'Attention" (Let's Cultivate Attention), an unprecedented study in France to identify and quantify the most important criteria contributing to advertising Attention, as France is about to shift towards "cross TV/Video" audience metrics.
To complete this exclusive study, FranceTV Publicité and Ipsos relied on the expertise of Tobii, a company specialising in eye tracking technology. They implemented eye tracking in order to measure the attention paid to advertising in real conditions, at home, via cutting-edge, next-generation eye-tracking glasses.
Practically speaking, the goal is to identify the most important factors contributing to attention in terms of number of seconds and single source (for all TV/digital videos), based on the following classification criteria:
THE OFFER (TV, replay, video platforms, social media)
THE DEVICE (TV screen, Smartphone/Tablet, computer)
THE EXPERIENCE (Sound on/off, size of the ad on the screen, crowdedness, position on the screen, etc.)
THE FORMAT (pre-roll, mid-roll, story, in-feed, etc.)
THE CONTEXT (Informational content, fiction, etc.)
This ambitious programme to understand the mechanisms of Attention was launched by FranceTV Publicité and co-implemented with all the actors in the market: the media agencies (Havas Media Network, I-prospect/Dentsu, Group M, Publicis Media France, Omnicom Media Group France), the CESP, Ipsos and specialised societal transformation consulting firm Eranos.
It will span two years and include three key stages. Today, one part of the first stage, on the measurement of advertising attention, has been completed. 
The initial trends observed allow us to once again demonstrate the unparalleled power in terms of both advertising attractiveness and attention value of linear television/replay TV when compared with streaming platforms and social media.
Linear TV and replay TV represent 85% of video advertisements recorded. Streaming platforms represented just 8%, and social media just 7% (1). 
97% of linear TV/replay TV spots meet the MRC threshold (The Media Rating Council) vs 87% for streaming platforms and just 11% for social media (2).
For the 20 second format, the attention score for linear TV and replay TV ads is 86% vs 59% for streaming platforms

(3).
Sources Ipsos/Tobii-Base 98 individuals in 3 cities, Paris, Lille, Lyon from 24 May to 7 June 2023
80 observations minimum and 20 individuals in accordance with the recommendations of the CESP
(1) % video advertisement recordings gathered based on individuals having watched their preferred screens while wearing eye-tracking glasses
(2) 2s MRC standard and minimum 50% display on screen
(3) In attentive seconds. Social media comparison not possible due to insufficient data.
"Attention is truly precious because we are constantly surrounded by content everywhere, with images flowing continuously at us every day. It is more important than ever to consider if we still want to surprise audiences and lead them outside the bubbles produced by the algorithms. Despite this, very little is known about its mechanisms and driving factors. Within our agency, we have been paying attention to this topic since 2018 with the implementation of the Quality Rating Point, an innovative indicator measuring the quality of the context programme for advertising messages. Based on the QualiTV scale from Harris Interactive, it takes into account the levels of satisfaction, attention and recommendation of audience for a given piece of content. Today, we want to go even further and create Attention, the new key indicator of communications performance, between now and 2024. Our goal is to strengthen the value of a quality television and offer a unique advertising experience. Our objective is to build a French TV/Video standard for advertising attention for the use of our partner media agencies and advertisers."
"Ipsos is proud to work alongside France Télévisions to evaluate the quality of advertising contact in TV and video. Thanks to a unique and innovative methodology, we will be able to capture and analyse every second of attention paid to TV and video advertisements, across all devices. By equipping a specially-recruited panel with next-generation eye-tracking glasses from Tobii, we will measure, in real, single-source conditions, the attention paid to advertisements, and qualify this data based on a number of key criteria. Putting cutting-edge innovations to work in service of our clients is in our blood at Ipsos, so that we can help the advertising market move towards new metrics."