With a turnover of more than 444 million euros in 2022, with a growth of +2.5%, France Télévisions' advertising network is in good shape. FranceTV Pub is continuing its development with its own inventories – TV channels and the france.tv platform – but also with new external editors such as LCP, Public Sénat and Disney.
In 2023 and 2024, the Group wants to focus on digital, addressable TV and major sporting events such as the Paris Olympic Games. Marianne Siproudhis, CEO of FranceTV Pub is 100%Media's Monday guest.
100%Media: How would you assess 2022 for FranceTV Publicité?
Marianne Siproudhis: 2022 was a very good year for our advertising network, but also for our Group. A few months ago, we were doubly rewarded by winning the CB News Media Grand Prix for France Télévisions, and the advertising network of the year award for FranceTV Publicité. This is the first time that a media company and its advertising network have achieved this double feat and this broad recognition from the major players in the market honors us as much as it obliges us to work harder.
France Télévisions is the leading media company in France with an audience share of 29.4%, up +0.3 points in one year. Its programs and major news events enable us to capture the attention of nearly 50 million viewers and internet users each week.
2022 saw the birth of new programs that became great hits with audiences, such as Les rencontres du papotin with an average of more than 3 million viewers; Quelle époque, which joined the Saturday night line-up, with an average of 1.2 million viewers, or Drag Race France, an entertainment phenomenon with 7 million viewers on France 2 and 2.6 million video views.
2022 was also a great year for the news. More than 42 million, i.e., 8 out of 10, French people, followed the presidential campaign on France Télévisions. Every day, 18 million people get their news from our TV magazines, newscasts and our franceinfo channel. Extending this to all our territories, more than 70 hours of news are produced daily on all our channels, in both mainland and overseas France.
Sports is also a fundamental pillar of our offer. 2022 allowed us to go above and beyond for all our sporting events. In particular, the rugby match between France and England comes to mind, which had the highest viewership in 2022 with almost 9 million viewers. Record audiences and unmatched instantaneous power are great assets that are highly valued by our advertisers.
FranceTV Publicité is ready to take advantage of these very high-quality editorial contexts. We continued to grow last year, reaching an overall turnover of more than 444 million euros, up +2.5% in a market down -1.3%. This is one of our best records in over a decade.
And we have been very satisfied with the gain of 400 new advertisers and a large and balanced portfolio of external publishers, including pure players such as Brut., as well as public broadcasting publishers such as France Médias Monde, TV5 Monde, Radio France, Ina, Météo France, the parliamentary channels LCP-Assemblée Nationale and Public Sénat and even three major American players: NBC Universal, Warner Bros. Discovery and The Walt Disney Company France.
"Drag Race France is driving a lot of interest from advertisers."
100%Media: The 2023 France Télévisions' budget is supported by "increased advertising revenues". To which extent can these resources compensate the decline in public funding?
M.S.: Our network's mission is to contribute to the France Télévisions economic model, in order to acquire the rights of major sporting events, that gather bring us together, to invest heavily in creation to give access to a rich, diversified and meaningful television, and to broadcast quality programs. This is what gives meaning to our advertising activity and drives us every day.
But we remain modest, because we are limited in advertising space with constraints that cannot allow us to progress.
100%Media: The drag queen competition Drag Race France is back with season 2 on france.tv, but was partly broadcasted on France 2. How did the network handle this program?
M.S.: Sometimes we do take digital programming and broadcast it on our TV channels.
It was a daring gamble that worked out very well and of which we are very proud, because this program was viewed by met with a very large audience. This is one of our platform's flagship programs, with a very high impact. It generated over 230,000 interactions on Twitter. The new season has already been shot and we don't have the air date yet. It's a very entertaining show and it is incredibly creative. It drives a lot of interest from advertisers and some have positioned themselves very early.
"On segmented TV, the next step is about measurement and effectiveness guarantees"
100%Media: Segmented TV will continue to grow in 2023 with a threefold increase in the number of campaigns and 6.6 million households served. What is France TV Publicité's objective in this segment?
M.S.: Our network is eager to innovate, it is transforming itself boldly and with great agility. It was a pioneer in segmented TV in France. When your tag line has been "The world is changing. So is advertising" for 3 years, you have to be at the forefront of all the new possibilities there are to offer to advertisers. And we are delighted to have been recognized with 8 awards for our segmented TV offering since its launch.
Segmented TV is a field of continuous exploration. For example, we have launched proximity targeting solutions, such as isochrone targeting based on travel time, in partnership with the start-up Smappen, or targeting based on weather conditions. We are innovating again with Adressable.tv Amplify Ad Tracking, a solution that combines the power of cable TV with the finesse of segmented TV. This new feature allows advertisers to optimize their reach and useful coverage for each campaign.
Our 2022 dynamic has enabled us to capture 26% of the segmented TV market's turnover and to multiply the number of segmented campaigns by a factor of 4. And 2023 is off to a strong start with a first quarter growth of +50%. We intend to continue along this path with the constant eye to offering advertising that is increasingly relevant and adapted to the expectations of the public. Our objective is also to open up access to the TV medium and its power to a greater number of advertisers, especially local advertisers.
The next step is to measure and guarantee the effectiveness of our products, which we are working on with our colleagues in the market.
100%Media: Is the absence of a Free set-top box a hindrance to the development of segmented TV, as Nicolas de Tavernost recently suggested?
M.S.: The growth of segmented TV will continue by expanding the pool of eligible set-top boxes. The arrival of Free, scheduled for this year, will help reach the 50% threshold of set-top boxes eligible for segmented TV by the end of 2023.
100%Media: After the end of Salto, all TV groups want to invest in free streaming. Delphine Ernotte wants to make France.tv the Group's number one channel. Can you provide any more detail on your goals? Will there be room for everyone in the AVOD advertising market as the American giants launch their offerings?
M.S.: The AVOD market has big potential that has just been expanded with the evolution towards a hybrid model of SVOD platforms that have become partially AVOD. We know that by 2028, the global ad-supported platform market is expected to reach $91 billion, with a growth of +140% vs. 2022.
By entering the French advertising market, the American giants are showing us that we still have plenty of room for improvement in terms of rates. The Netflix example is very significant on this point. But to be convincing in the long term, they will probably have to be measured by the certified organizations that are the most reliable in the market, such as Médiamétrie.
With regard to our France.tv platform, our strategy consists of supporting the way French people use the platform and allowing them to access France Télévisions' content and programs at any time without gaps or differences between TV and digital. Our group has strong digital goals and is constantly seeking to expand its audience to include all audiences. In 2022, France.tv was the leader in free streaming with 52 million visitors, including those who came only for digital exclusives (youth, sports, Slash…). 60% of the increase was driven by people under 50 years of age. And every month, 23 million video viewers watch on-demand content on France.tv. Let's also remember that our platform is one of the few to offer its content for free before the TV broadcast (preview and binge).
Every week, 80% of France watches our channels and our platform's long-term goal is to achieve the same coverage. Our Group is giving itself all the means to achieve this by enriching its content: 20 different series are offered daily, and we are continuing to invest in documentaries. In terms of cinema: 200 films are available year-long in free-to-watch and streaming. And let's not forget France.tv slash, our video media platform for 18–30-year-olds that tells stories and shares experiences to inspire, unburden, spark discussion, liberate, surprise and make us laugh too, because that is absolutely essential. To try to be useful to all French people in their daily lives.
100%Media: What is your turnover on digital?
M.S.: We are experiencing strong digital revenue growth at +19% vs 2021 and +60% vs 2019.
100%Media: The France Télévisions Group's communication now places the France.tv platform right next to the TV channel logos. Why is that?
M.S.: We have rethought the charter for our communication campaigns by systematically placing the logo of our France.tv platform alongside the TV broadcast channel's logo. This is a logical and useful reference point for our audiences, who can watch our programs live or on-demand, depending on their usage and sometimes even in preview.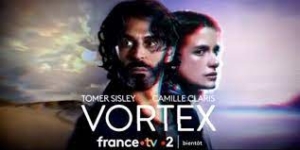 We have placed the France.tv platform at the same level as the TV channel.
100%Media: The acceptability of advertising on streaming / video on-demand seems lower than on regular TV. Recently, Le Parisien published an investigative piece on the subject. What is your strategy?
M.S.: It is clear that regular TV advertising slots are the most popular among all forms of advertising in France. Some internet users generally consider advertising as intrusive, sometimes aggressive, and yet many of them prefer digital advertising to reduce the price of platform subscriptions in the context of the inflation that we are experiencing.
As we are concerned about the user experience, we have defined a strategy of controlled advertising pressure on our platforms. Overall, in 2022, pre-rolls and mid-rolls did not exceed 2% of the video time consumed by our audiences. Another distinctive element is that we do not cut French works (films, documentaries and series) with mid-rolls.
We are constantly striving to adapt advertising to our audiences and their uses. On digital, we maintain the "zero advertising" rule for children, and we limit ourselves to a pre-roll for Millennials who are particularly fond of France.tv slash.
"TV marketing at GRP does not compare well with other media."
100%Media: The viewer's value on TV or on digital is not the same in terms of the advertising market… Should we move from GRP to CPM?
M.S.: We have the ability to gather several million viewers instantly. It is this unmatched power that advertisers are looking for. Television in France has the most elaborate audience analytics in the world with Médiamétrie and its audience should probably be valued higher. TV marketing at GRP does not compare well with other media. A CPM approach is being looked at, even though the media planning and performance data would maintain the notion of GRP.
100%Media: How is platformization transforming marketing methods?
M.S.: We have taken a lot of inspiration from BtoC to change our management system and transform our sales approach through technology. Simplifying, saving time, making useful information available at any time to our media agency and advertiser partners: that is the strategy we have adopted for the past 5 years. The development of our ADspace platform, which gives access to our booking schedule, our offers, and the monitoring and management of campaigns, is a success. It now operates more than 50% of our annual turnover and frees up precious time for our sales teams, who are more focused on tailor-made proposals and the explanation of our program contexts.
We wanted to go further by making ADspace entreprises available to VSEs and SMEs, which offers self-service purchasing and consulting for their creative production. Our platformization is a wide-open field of new marketing possibilities. For example, we interconnect ADspace Segmented TV with Adcleeck local media buying platforms, which are used, most notably, by car dealerships or large-networked retailers such as Fnac-Darty.
100%Media: 2023 and 2024 will be jam packed with sports events, particularly with the Olympic Games in Paris. Marketing has already begun. Are you satisfied with these first results? What about the French Open and the Tour de France?
M.S.: With the broadcasting of these magnificent sporting events, France Télévisions has become the largest sports advertising terrain in the game. In 2022, more than 500 advertisers chose to place their TV and digital communication in a sports context.
2023 is off to a great start with a viewership of over 9 million for the Six Nations Championship. As for the new editions of the French Open and the Tour de France, they are looking very promising. This is an opportunity to imagine new, 360-degree, advertising operations, brand content, and innovative and creative solutions. It's a great playground for us to outdo ourselves and anticipate the marketing process at a very early stage. For example, we opened access to communication offers to the major sponsors of the Olympic Games 18 months before the Opening Ceremony with a new approach via our ADspace platform. We have very strong support from the players in our advertising market and the meetings we hold with them on the theme of sports are a source of creative inspiration for inventing tomorrow's solutions together. Our objective is to triple turnover for Paris 2024 compared to previous editions of the Olympic Games.
100%Media: France TV is the official broadcaster of the Cannes Film Festival for the 2nd year. What will be new this time around? What did you learn from the first year?
M.S.: As you know, France Télévisions and cinema… it's a great love story and we tied the knot at the biggest international film festival last year.
As the leading investor in free-to-air cinema, our group has two dedicated subsidiaries that have already co-produced more than 2,000 films since their creation, such as Parasite and more recently Simone, le voyage du siècle. France Télévisions unquestionably places cinema at the heart of its cultural goals.
The 75th edition of this great event confirmed the interest in cinema of our audiences and France Télévisions and Brut. offered exceptional exposure in France and abroad. The audiences show out, with a viewership of 28 million over the two-week period, more than 2 million video views on our France.tv platform and a huge success on the various Brut. channels with 220 million video views worldwide. The Cannes Film Festival had not seen such great audience numbers since 2011!
Looking ahead to this second year, we have mobilized our network to bring the Festival to all French people and allow them to move to the rhythm of Cannes. Our programming is already adapting itself and viewers can already sneak a peek into cinema's backstage with Pierre Lescure on his program Le Beau Geste, every Sunday. CultureBox will play a role on a daily basis. Our platform France.tv also plans to put the best films of past nominations online.
These varied and immersive formats are magnificent settings for the brands that will accompany the rising enthusiasm until May. We have been working on our offers since November, in collaboration with the Festival's official partners. We are offering three large-scale solutions combining TV, digital and sponsorship, called "Winner", "Fortnight" and "Croisette" to communicate at the heart of the event.
100%Media: What is the status of the project to move the network's premises from Boulogne to Paris, to the France TV headquarters?
M.S.: The Campus project aims, in particular, to bring the employees, spread over 15 sites in 4 locations, together around the Maison France Télévisions. At the end of 2024, our network will move into a magnificent eco-responsible building located 2 minutes' walk from France Télévisions' channels and programs.
Interview by François Quairel.