France Télévisions, No. 1 media in France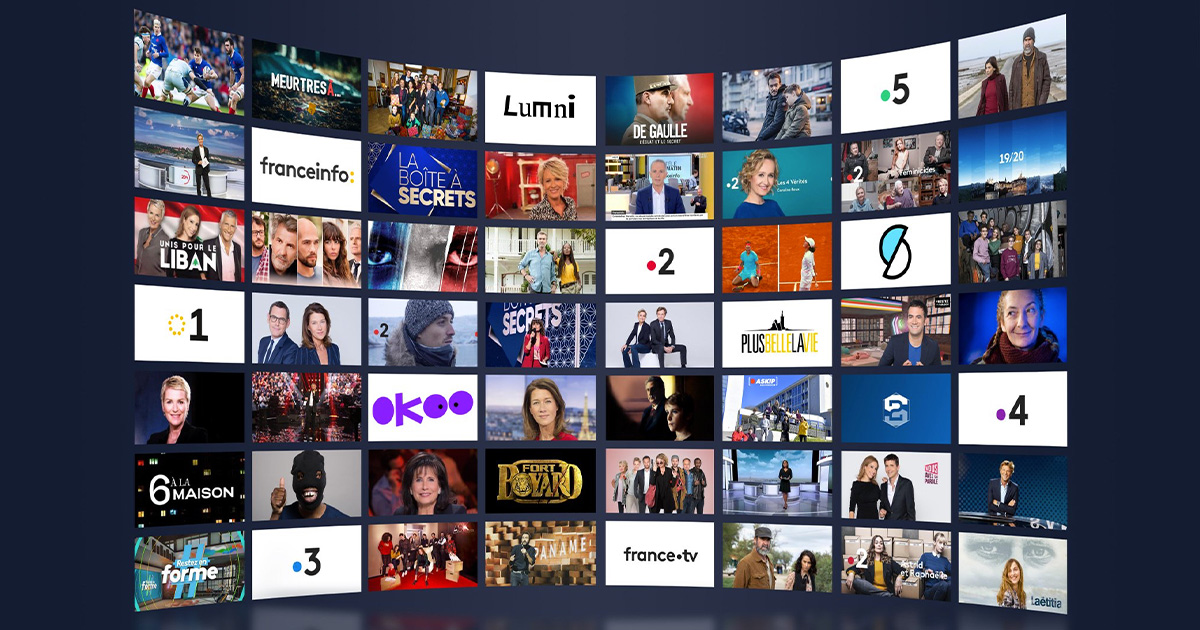 Press release of January 4, 2021 – France Télévisions
France Télévisions, No. 1 media in France, forms even closer ties with its audiences in 2020
France Télévisions, with 28.8% audience share, tops French audiovisual rankings once again.
The current health crisis has only served to strengthen the public service mission of the group's channels: France 2, France 3, France 4, France 5 and France info all boasted an enhanced and original offering, attracting over 80% of the French population every week.
Furthermore, video views on the France.tv platform last year were up 25% compared to 2019, with 1.3 billion views.
And thanks to its global media France info and its newscasts on France 2 and France 3, the group has provided access to authoritative news for 38 million French people every week since September.
More than 7 million viewers on average tuned in every evening to more culturally-oriented programs in support of the struggling sector (cinema, theater, literature, etc.).
France Télévisions also played a key educational role, with more than 750 hours of Lumni programs on France 4 and France 5 available during lockdown. This service attracted more than 1.8 million unique visitors each month to the Lumni.fr website.
Fictional content was a big hit on France 2 and France 3, with nearly 19 million evening viewers each week.
Finally, the group also stood out for the quality of its content, with 68 France Télévisions programs ranked in the Quali tv 2020 Top 100.
A new and diversified offering providing information, education and entertainment, as well as the chance to get away and unite around shared values.
I- Showcasing the best of Creation
Fiction / Cinema: the power of storytelling for the common good 
France Télévisions, No. 1 in French fictional content, achieved 7 of the year's top 10 ratings, all channels combined.
Culture / Live performance: at the public's side and supporting live performance professionals
With new brand launches, new dedicated events and special operations throughout the year.
Entertainment: bringing families together around a single screen
With a strong focus on original content, France Télévisions continued to revamp its entertainment brands.
Documentary: understanding the world and sharing experiences
With an unrivalled offering, France Télévisions' documentaries attracted an average of nearly 12 million viewers every week.
Animation: knowledge sharing with the launch of more than 20 French series in 2020
II – Providing authoritative news content
News: at the heart of France Télévisions' offering with 75 hours produced every day
Magazines: at the cutting edge of latest news 
France Télévisions' magazines are available to the public throughout the day and won a 78% audience share every month.
Sport: bringing people together more than ever before
52 million viewers watched a sporting event on France Télévisions channels in 2020.
III – Forming ever close audience ties
Getting closer to audiences with local & regional offerings
17 million French people tuned in to France 3's regional service every week.
A new offering from the Overseas division that doesn't disappoint
Nearly 45% of inhabitants of French overseas territories watched La Première network every day.
Appealing to young audiences
Lumni: a leading educational offering after just one year in operation.
Okoo and France tv Slash: offerings that appeal to young audiences.
Ratings for the France Télévisions Group's channels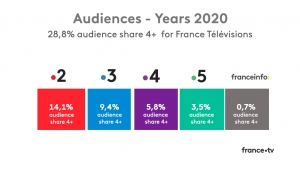 France 2, up sharply, achieved its best year since 2015 with 14.1% audience share.
France 3 consolidated its position as the third largest national channel, thanks to its evening shows with record ratings, the strongest growth in the French audiovisual sector.
France 4 led the way in educational television with more than 700 hours of Lumni classes.
France 5 moved ahead of the DTT channels and strengthened its premium offering with 130 prime time shows gaining over a million viewers (+30% vs. 2019).
France info channel 27 set new records last year with a 0.2 point increase in audience share.

Ratings for the France Télévisions Group's digital offerings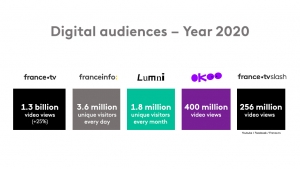 France.tv turned in record breaking results across all screens, with a 25% increase in number of views vs. 2019.
France info, France's leading news platform, attracted an average of 900,000 visitors daily.
With nearly 15,000 content items available, Lumni was the leading reliable source of educational resources for students, teachers and educators.
Okoo, the first commercial-free multi-screen offering for children from 3 to 12 years, was also popular with 4.8 million TV viewers, i.e. 60% of French children each week.
The France.tv Slash offering, tuned into the lives of young adults, doubled its Instagram and Snapchat communities.