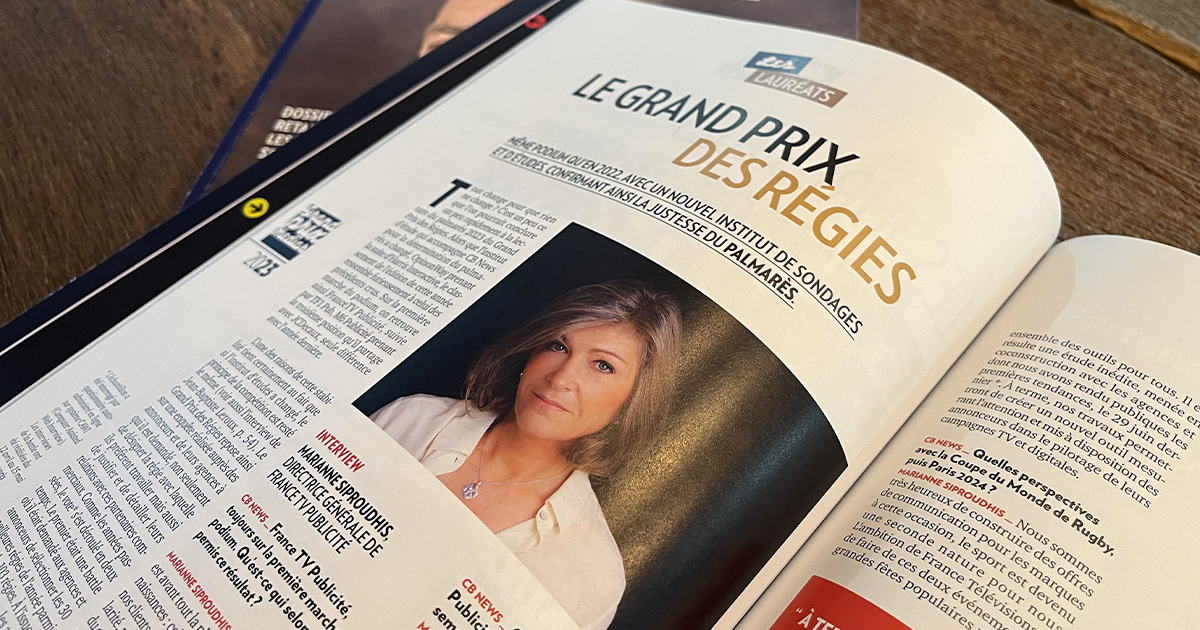 Published in CB News on 5/09/23
What do you think made this possible? 
More than anything, this Grand Prix represents the recognition we care most about: the satisfaction of our customers. I think our added value lies in our uniqueness, our dynamism and the contextual quality of our programmes. We're always looking to be one step ahead, paying the greatest attention to our partners' concerns and expectations. Added to this are the trust and the ability to listen, which enable us to build a solid and sincere relationship with each and every one of them.
How did France TV Publicité do in the first half of 2023?
The start of 2023 has been particularly intense, and we have remained true to our longstanding tradition of being a pioneering sales house. The many innovations introduced during the first half of the year have been acclaimed by the market, and have already won us 12 awards. They enable us to respond ever more effectively to our mission: that of a fast-moving, high-performance, responsible management company that is open to change.
We have also put our drive and foresight at the disposal of the market by launching an ambitious research programme into the mechanisms of attention. We felt this was essential if we were to plan ahead better for the challenges facing our businesses, factor in the new ways of consuming videos and work together to build tools for everyone. The result is an unprecedented study, carried out jointly with the agencies, whose number one trends we published on 29 June. Ultimately, our work will lead to the creation of a new tool that measures audience attention and can be used by advertisers to manage their TV and digital campaigns.
What are the prospects for the Rugby World Cup and Paris 2024?
We're delighted to be offering brands a range of communication tools for this occasion, and it's fair to say that sport has become second nature to us. France Télévisions' ambition is to make these two events popular viewing experiences for all French people. Advertisers active in these sporting contexts know that they are unique in their ability to unite all territories and all generations, sharing an intense experience together. It's also an opportunity to appeal to young people, over 90% of whom watched sports programmes on our channels in 2022.   
For us, they are an opportunity to offer our partners original and inspiring ways of writing new advertising copy. It's both a great pleasure and a wonderful opportunity to do our job in this creative context, enabling brands to tap into new areas of communication and engage in conversation with audiences with which they share an affinity.