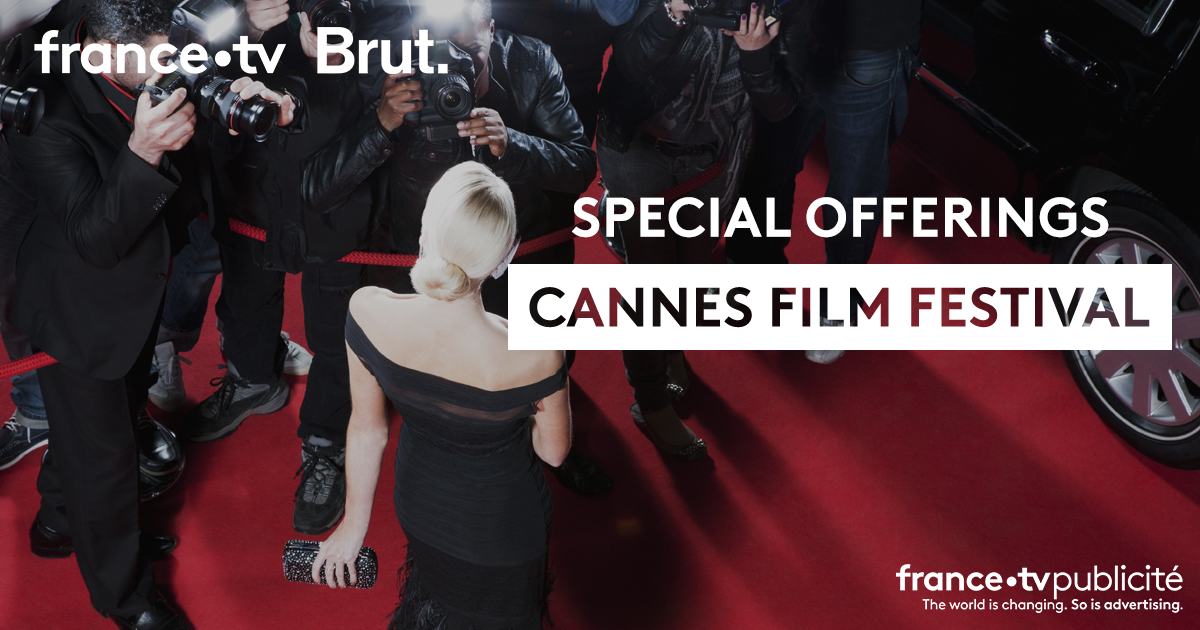 From May 17th to 28th, 2022, the 75th annual Cannes Film Festival will be held at the Palais des Festivals et des Congrès, located on the famous Croisette promenade.
Created in 1946, over the years the Cannes Film Festival has become one of the most publicized events in the world and the most important film festival in terms of international influence.
Its mission is to elevate and highlight quality works to serve the evolution of cinema, promote the development of the worldwide film industry and celebrate the 7th art internationally.
This year, the Cannes Film Festival enters a new era with the arrival of France Télévisions and Brut. as official broadcasters across all formats and media partners.
To offer advertisers exceptional media exposure on this grand occasion, FranceTV Publicité and Brut. are launching their dedicated "Cannes Film Festival 2022" offerings. This plan is based on 3 ranges:
The Prestige Pack to sponsor all France Télévisions programs related to the event, including the opening and closing ceremonies.
Sponsors with this pack will also sponsor a new short program, "De l'ombre à la lumière", launched specially for the festival and broadcast on France 2, France 3 and France 5 as well as on the magazine "Une minute à Cannes" which will be broadcast every evening at 8:45 pm on France 2.
Finally, this pack proposes becoming the only partner in a specific sector with several activations across the entire Brut. media ecosystem: editorial format sponsorship on the Cannes Film Festival, daily presence in stories, brand content program, provision of audience affinity pools via Brut. AdNetwork.
The Big Screen Pack to communicate around the highlights of the Cannes Film Festival in a themed broadcast setting for the event.
The partner will also be associated with a segmented TV system designed to target "Cinema Fans" as well as a tailor-made system on Brut. integrating sponsoring, brand content and the AdNetwork.
The Croisette Pack to partner with the short program "De l'ombre à la lumière" and benefit from a brand content campaign as well as audience affinity pools on all Brut. channels.
In total, France Télévisions should reach more than 30 million French people* and Brut. 100% of young people thanks to their content dedicated to the Cannes Film Festival.
*Estimation of France Télévisions editorial coverage subject to channel programming. Sources: Restit'TV JT 13h, JT 20h, C à vous, C à vous la suite from 18 to 29/05/2021