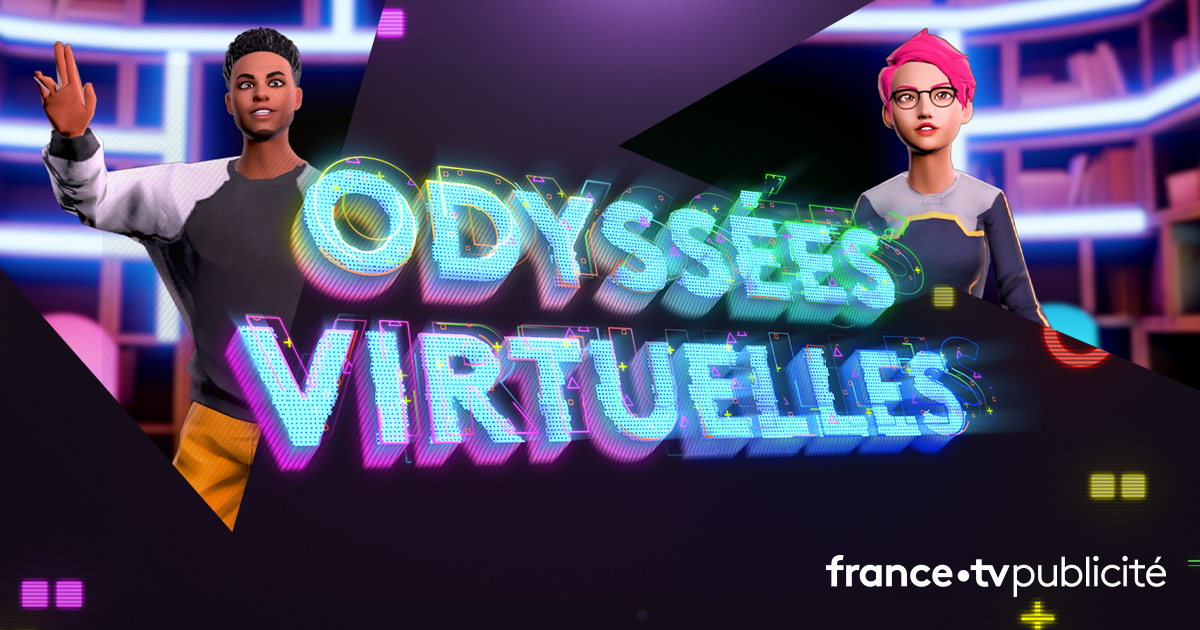 What if we imagined the world of advertising and media in the Metaverse?
Voyaging to the year 2035, through creative, innovative possibilities.
What's the format?
A web series entitled "Virtual Odysseys".
Produced by Ante Bellum Films, the web series takes us to 2035 to follow the adventures of VRé and KirAI, two Vtubers presenting a vlog about the Metaverse.
It's a creative and innovative exercise. The videos were entirely shot via the VRChat platform, in virtual spaces with environments and avatars created in advance. But even though the camera, the sets and the costumes are virtual, the characters are played by actors wearing virtual outfits, their movements reconstructed via motion capture and their voices recorded during filming. A first in France for an advertising agency.
Over the course of the episodes, online viewers will recognise many "guests" from France Télévisions who have agreed to get involved, such as, for example, Samuel Etienne and even Nelson Monfort.
The web series will be available on the FranceTV Publicité website and social media.
Discover the first épisode
Alongside this, to assert their ambitions and beliefs around immersive experiences, France TV Publicité is publishing a manifesto. 
"It is essential that FranceTV Publicité anticipates the media consumption of tomorrow. A new field of expression, social connection and innovation for brands, immersive experiences allow us to make our content fit into the consumption habits of the younger generations to cultivate their attention, interact and engage in dialogue. As an agency with a public service mandate, it is our duty to teach the public about these new ways of using media. That's the main goal of this web series: enlightening our partners as to the roles they will be asked to play tomorrow, alongside us. Because the world is changing. And so is advertising."
"In a changing world, with new platforms, modes of consumption and formats constantly appearing, the France Télévisions Innovation Department is positioning itself as a trend spotter and accompanies understanding through practical tests to imagine - alongside all the France Télévisions departments - the media of tomorrow. Presented with increasingly creative younger generations, who are no longer content to be passive spectators, new immersive technologies, augmented by the possibilities of generative artificial intelligence, are a way of engaging our audiences, who are now our co-creators and even the actors in our content, in personalised and interactive experiences, while still respecting our public service values. Anticipating new modes of consumption to remain relevant to all our audiences in the future: that's the heart of our exploration of these virtual worlds."
"With this series of videos, we are engaged in an exercise of imagining the future of immersive worlds by projecting ourselves forward into 2035, a future where these virtual worlds are an increasingly important part of people's daily lives. Using the tools of science fiction to help professionals envision the future and to interrogate our future is already an innovative approach, but another thing that makes this series unique is that it was entirely shot in VRChat, an online virtual worlds platform which France Télévisions has already used for the French Open and Stade 2. Although it is first and foremost a social network, it has increasingly developed tools that make it possible to create videos, to the point where we could imagine a real virtual shoot. The actors are in a studio, wearing virtual reality headsets and trackers, but the camera is inside VRChat and we are filming them live as their avatars in virtual sets where they can change freely. We were also able to use extras without having to bring them on set, because they were members of the VRChat community logging in from their homes. With the support of France Télévisions Innovation and the ItametisXR team we were able to use lots of locations and sets during the two days of shooting, and it was fascinating to see just how easy it was to apply our experience of filming and our knowledge to this totally new process."