"ReAct with FranceTV Publicité", the new range of advertising solutions for sectors heavily affected by the crisis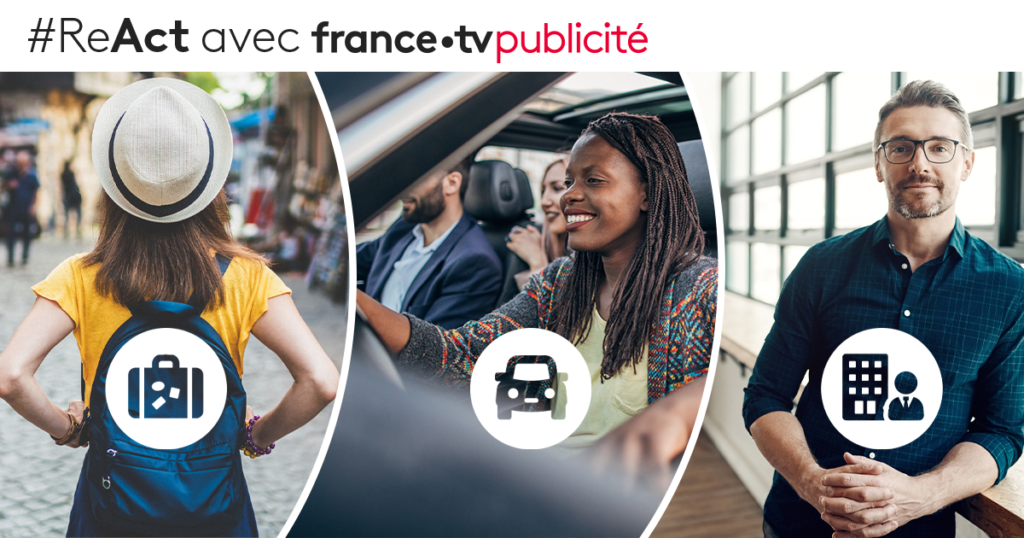 FranceTV Publicité is committed to playing a leading role in the economic recovery and is kicking things off by supporting companies in most COVID-19 crisis affected sectors and that require an immediate boost to their sales.  
As of June 5th, the new "ReAct with FranceTV Publicité" range of advertising solutions is supporting most impacted sectors, including VSE/SMEs, companies promoting responsible initiatives and local employment, as well as "Made in France" activity through specially dedicated slots.
As part of its "ReAct with FranceTV Publicité" scheme, the network aims to help companies in the many sectors affected by the crisis by making available its expertise and audience quality.
Travel/Tourism sectors: going on holiday in France is a great opportunity for people to help boost the sector's recovery. "Destination France" packages provide brands with the opportunity to enhance their classic TV commercials by promoting their offers (promotion, destination) on a clickable premium digital slot, broadcast to a "data travelers" target. Brands can also benefit from a TV presence on three contextualized screens simultaneously on the last slot before 8pm, or from sponsoring flagship France Télévisions programs.
Automotive sector: all advertising on green vehicle models is being given increased visibility on France Télévisions, both on TV and digitally.
Finally, attractive offers are aimed at the local community of VSE/SMEs, providing them with access to national and regional TV at competitive rates.
The "ReAct with FranceTV Publicité" range is available on all the network's media to enable communication on conventional TV, via sponsorship, digitally, and through brand content with the Lab, FranceTV Publicité's special operations unit.